Beeline Reader
"We've been involved in other accelerators and programs, but MIT Solve in particular has so many partnerships and relationships with industry, NGOs, and other organizations that have really enabled us to grow the company," says Sona Shah, CEO of Neopenda, a Frontlines of Health Solver.
Solve's 2020 Global Challenges offer more than $1 million in prize funding. But being a Solver is about much more than just prize funding. Solver teams join a supportive community of peers, experts, and funders—gaining access to mentorship, strategic business advice, and resources at MIT.
This year, we're looking for solutions to these four Global Challenges:
Sustainable Food Systems: How can we produce and consume low-carbon, resilient, and nutritious food?
Learning for Girls & Women: How can marginalized girls and young women access quality learning opportunities to succeed?
Maternal & Newborn Health: How can every woman, new mother, and newborn access the care they need to survive and thrive?
Good Jobs & Inclusive Entrepreneurship: How can marginalized populations access and create good jobs and entrepreneurial opportunities for themselves?
Health Security & Pandemics: How can communities around the world prepare for, detect, and respond to emerging pandemics and health security threats?
Anyone, anywhere in the world can submit an application. You can be an individual, a team, or part of an organization. If you have a relevant solution, here's what you need to know to apply.
By June 18: Submit an Application
Each team must submit an application draft that includes the required information by 12pm ET on June 18. Here are three easy steps you can take to submit your application:
Step 1: Log in or create an account at solve.mit.edu/login.
Step 2: Enter the required information to submit a solution to one of our Global Challenges. Questions on the "Select A Challenge" and "Solution Overview" pages are required in order to submit your solution.
Step 3: Submit your solution. You must click "Submit Solution" in your user dashboard for your solution to be considered for one of Solve's Global Challenges. This button can only be clicked once all of the required questions are completed; once this happens, the button will turn yellow and you'll be able to click it to submit your solution. Until then, it will appear gray.
Once you click Submit Solution, your solution will be publicly viewable on Solve's platform, and you can start receiving comments and feedback from the Solve community. We encourage you to submit as soon as you can—and keep logging in to review any comments and continue editing your solution. We highly recommend that you answer as many questions as possible before the final submission deadline (June 18, 2020)—this helps our judges better understand your solution.
If you prefer not to Submit immediately, you can click Save Draft & Exit once you complete the required questions.
Solutions Must Be Tech-Based
All eligible solutions must use some form of technology to address the 2020 Global Challenges. Our definition of "tech-based" is broad: in addition to AI, blockchain, and virtual reality, Solver teams have leveraged a plant-based fiber that absorbs oil spills, biodegradable sanitary pads, and user-friendly mobile apps.
Learn about all our Solver teams' diverse technologies.
Applications Must Be in English
We encourage applicants from all around the world to apply. However, applications must be written in English. And if you're invited to pitch your solution at Solve Challenge Finals, you'll need to present in English.
Types of Eligible Solutions
We will consider solutions at all stages of development. Here's what that means:
Concept: An idea being explored for its feasibility to build a product, service, or business model based on that idea.
Prototype: A venture or organization building and testing its product, service, or business model. If for-profit, a new company getting off the ground that has raised little or no institutional capital (less than $500,000) in pre-seed fundraising.
Pilot: An organization deploying a tested product, service, or business model in at least one community. If for-profit, a young company that is working to gain traction (e.g., product launch, user base development) and that has raised less than $2 million in institutional capital in seed funding.
Growth: An organization with an established product, service, or business model rolled out in one or, ideally, several communities, which is poised for further growth in multiple communities or countries. Organizations at this stage should have a clear path towards financial sustainability whether they are nonprofit or for-profit. If for-profit, an early-stage company that has established a track record (e.g., consistent revenue streams, strong user base) and is seeking to raise a round of roughly $2 million to $15 million in institutional capital in a Series A or potentially B round.
Scale: A sustainable enterprise working in several communities or countries that is looking to scale significantly, focusing on increased efficiency. If for-profit, a successful company that is scaling its operations and seeks to raise a round of more than $15 million in institutional capital.
How to Add Team Members to Your Application
Adding Team Members to your application allows multiple users to edit your application and enables you to collaborate on your responses. To add Team Members, open your Dashboard and go to "Edit Your Solution." At the bottom of your application, click the "Add a team member" button.
If a Team Member already has a Solve user account, search for them here and send them an invitation to join your application team. If they do not have an account, type in their email address and send them an invitation to create an account and join your application as a Team Member.
Once you have added your Team Members, choose your Team Lead. The Team Lead will be the only user who can add or remove users from the application. The Team Lead will be the person invited to pitch the solution at Solve Challenge Finals and, if selected as a Solver, will be the lead participant in the Solver program.
The Team Lead should be the highest ranking person on the solution team. For early-stage nonprofits and for profits, the Team Lead is typically the CEO or Executive Director. If the solution is part of a larger organization, the Team Lead can be the project leader. To select your Team Lead, click the "Make Leader" button above the user's photo.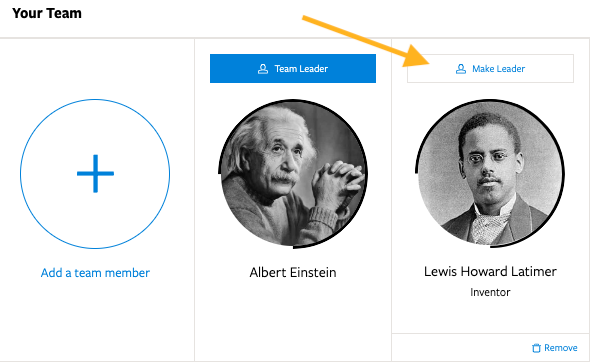 If you haven't submitted a solution by the June 18 deadline, we can't consider your application at all. So submit your solution today! If you're selected as a finalist, you'll get to join us in New York City for Solve Challenge Finals on September 20 during the United Nations General Assembly (UNGA) week.
If you have any questions, please email us at help@solve.mit.edu.
---
Photo: CEO Sona Shah pitches Neopenda, a Frontlines of Health Solver, at Solve Challenge Finals 2018. (Adam Schultz / MIT Solve)
Health
Sustainability
Learning
Economic Prosperity
Share this article