Beeline Reader
In 2013, after completing my master's in environmental technology, my friend and I started a solar panel company in the Netherlands. Our goal was to protect the environment, and we handled everything ourselves, from sales to solar system installations.
One summer day, we had a wild idea to create an off-grid transportable home using a shipping container that would be self-sufficient in water and energy. With funding from an incubator and an angel investor in 2015, our idea became a reality. In just three months, we built a prototype and showcased it in major Dutch cities. Despite positive feedback, the concept wasn't practical, and finding a buyer proved challenging. However, right before bankruptcy, we made a crucial decision to pivot the company to a modular mass timber building system. This change brought us market traction, and we grew the business into a scaleup, constructing over 100 homes in the Netherlands and counting.
(Installing the final solar panels on the roof of the Sustainer prototype)
In 2019, my wife received a job offer in Senegal, and I decided to join her. I gradually phased out of my role as the chief technology officer of Sustainer Homes, a company that continues to thrive today. Leaving behind a business I helped build from scratch was not easy, but the company was stable, and I was slowly approaching the "founder's trap."

Driven by my passion for building with timber, I decided to apply my skills in Senegal after learning about the housing gap in the Global South. I created a shipping-friendly timber building system, akin to IKEA packages, suitable for areas with limited infrastructure. In May 2020, during the first Covid-19 lockdown, I founded Easy Housing. With the help of volunteers and personal savings, we built the first prototype in Hilversum as proof of concept.
Months later, my wife's job offer in South Sudan posed a challenge. Unable to accompany her, I faced financial uncertainty and the need to occupy myself. Determined to earn a salary, I accepted a business development role leading a renewable cooking fuel program in Uganda—just 250 kilometers from my wife's base in Juba. This experience granted me invaluable insights into emerging economies. Simultaneously, I persisted with Easy Housing's development. In 2021, my friend Niels joined as co-founder and COO, turning it into a team effort.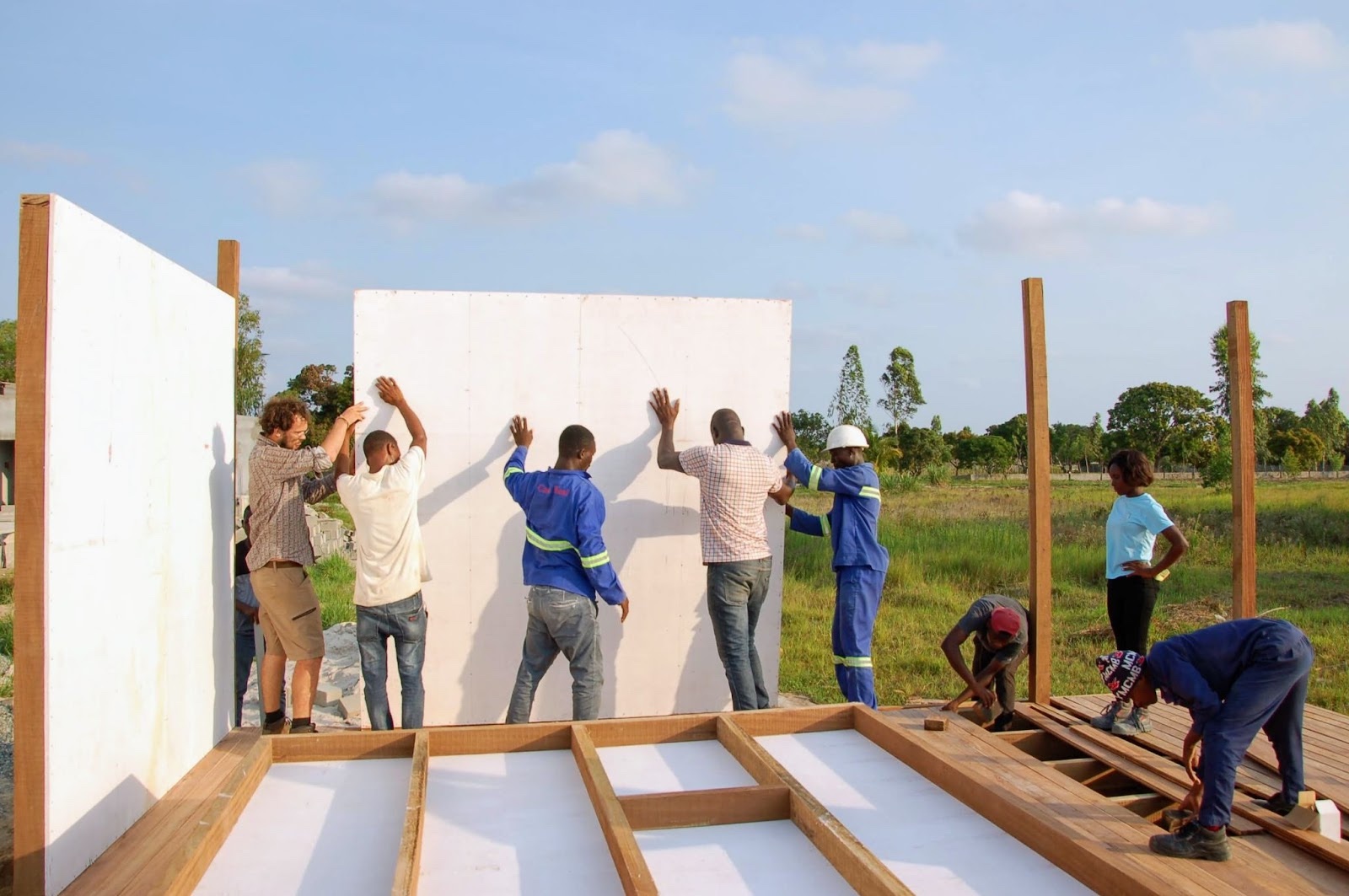 (Placement of the walls of our first project in Mozambique)
By the end of that year, we partnered with Casa Real, an organization that builds affordable homes in Mozambique, and our first project was planned in Beira, Mozambique—a coastal city vulnerable to climate change and frequently affected by hurricanes and floods. We had three months to complete the project, but global supply chains were disrupted due to the pandemic, leading to increased shipping prices and delivery times. Shipping the building package from Finland to Mozambique alone would take three months. Realizing the impracticality of our container-based business model, we had to withdraw from the project and reassess our approach.

We decided to switch from exported engineered timber to locally and sustainably sourced timber, while still maintaining the circular design principles and prefabrication approach of our system. We found an excellent sustainable forestry company, Levasflor, located near Beira. Shortly after canceling the project, I reached out to Casa Real with the solution we had found. Their response was enthusiastic, and the next day, I made the decision to quit my job in Uganda and fully commit to Easy Housing. Four weeks later, I arrived in Beira to start construction on our first project abroad. If we hadn't made that pivot to localized value chains, Easy Housing might not have survived.
To date, Easy Housing has grown into a sizeable startup with a global team of 17 people. We reached a revenue milestone of $500,000 this year, completed projects in four African countries, and have a lead pipeline of over 100 homes. Moreso, the Easy Housing team has established a scalable and localised value chain while spearheading innovation in construction stored carbon monetisation, rent-to-own schemes, circular prefabrication and software automation.
The challenges we faced as impact entrepreneurs are relatable to many founders. The struggles mentioned in this story, such as financial constraints, technical issues, dissatisfied clients, overworked team members, unfavorable policies, and convincing the market to embrace our product, are just a glimpse of what we endured. In my experience, the key to surviving as a startup lies in adaptability, perseverance, and having a reliable team. However, most importantly, survival is dependent on the passion and conviction within oneself to make a meaningful impact toward a more equitable and sustainable world.
Learn more about innovators like Wolf and explore ways to support Solve.
Share this article