How to Apply to a Challenge
Not sure how to apply? Below are helpful tips and tutorials to get you started.
Solve runs many open innovation Challenges each year, opening MIT's renowned innovation ecosystem to social entrepreneurs and innovators around the world. Our Challenges offer funding and follow on resources to selected innovators. Anyone, anywhere can apply to Solve's Global Challenges. See Partner Challenges pages for eligibility requirements.
Not sure how to apply? Below are helpful tips and tutorials to get you started, and watch our latest Application Clinic for more insight. You can also enroll in Solve's MITx course, Business and Impact Planning for Social Enterprises, to learn how to articulate your impact goals, theory of change, and plans to scale.
How to Apply
Step 1: Log in or create an account at solve.mit.edu/login.
Step 2: Answer the required questions to submit a solution, which can be found in red text on the "Select A Challenge" and "Solution Overview" pages. None of the other pages are required to submit your application, although we highly recommend that you answer as many questions as possible—this helps our judges better understand your solution. We encourage applicants from all around the world to apply. Please note that for Solve's Global Challenges, your application must be completed in English. Check the Partner Challenge pages for specific eligibility requirements and accepted languages.

You must click the Continue button or Save Draft & Exit button at the top or bottom to save the work you have completed on a page—it will not automatically save unless you click one of these buttons.
Please pay attention to character and word limits appearing in red text as you are writing answers to various questions. You will be able to save your application even if your responses exceed the character or word limits, but when you try to submit your solution you will be prompted with an error message asking you to shorten those responses.
For security reasons, please note that your session will automatically time out after 2 hours, and a message on the screen will appear after 90 minutes with a warning of this. If you have your application open in a tab but are not actively editing it, you may miss this message. Please be aware that you must save each application page often otherwise you risk losing your work due to a session timeout.

Step 3: Submit your solution by the submission deadline for your Challenge. You must click the "Submit Solution" button in your user dashboard for your solution to be considered for the Challenge. This button can only be clicked once all of the required questions are completed; once this happens, the button will turn yellow and you'll be able to click it to submit your solution. Until then, it will appear gray.
After you click Submit Solution, your solution will be publicly viewable on Solve's platform, and you can start receiving comments and feedback from the Solve community. We encourage you to submit as soon as you can—and keep logging in to review any comments and continue editing your solution. (Even after you submit your solution, you can still edit it up until the deadline for your Challenge.)
If you prefer not to Submit immediately, you should click Continue or Save Draft & Exit once you complete the required questions.

How to Add Team Members to Your Solution
Adding Team Members to your solution allows multiple users to edit the application and enables you to collaborate on your responses. To add Team Members, open your Dashboard and click "Edit Your Solution" for the relevant solution. Then, scroll all the way to the bottom of this page and click the "Add a team member" button.
If a Team Member already has a Solve user account, search for them here and send them an invitation to join your application team. If they do not have an account, type in their email address and send them an invitation to create an account and join your solution as a Team Member.
Once you have added your Team Members, choose your Team Lead. The Team Lead will be the only user who can add or remove users from the application. The Team Lead will be the person invited to pitch the solution and, if selected as a Solver for our Global Challenges, will be the lead participant in the Challenge program.
The Team Lead should be the highest ranking person on the solution team. For early-stage nonprofits and for profits, the Team Lead is typically the CEO or Executive Director. If the solution is part of a larger organization, the Team Lead can be the project leader. To select your Team Lead, click the "Make Leader" button above the user's photo.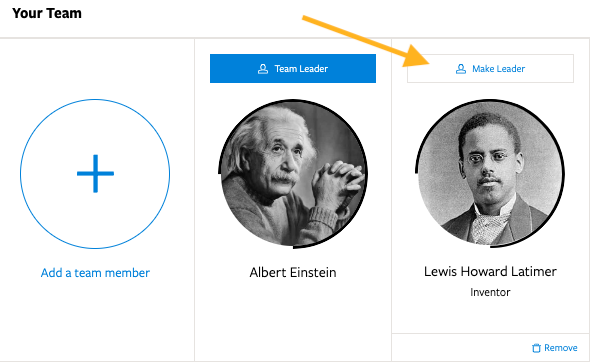 If you haven't submitted a solution by the deadline for your Challenge, we can't consider your application at all. So submit your solution today! If you are selected as a finalist for one of Solve's Challenges, you will be invited to pitch in front of judges at a Solve Challenge pitch event.
If you have any questions, please email us at help@solve.mit.edu. We look forward to receiving your application!
How does Solve's platform work?
Solve's award-winning open innovation platform was designed based on 10 years of research conducted by the Climate CoLab, a project of the MIT Center for Collective Intelligence, which studies how people and computers can be connected so that collectively, they can act more intelligently than any one person, group, or computer has ever done before.
Anyone, anywhere in the world can submit a solution to open innovation Challenges hosted on Solve's platform. Users may also comment and vote on published solutions, which are visible on Solve's website. All judging is completed inside the platform, with solutions assigned to specific judges to review and evaluate.
---
Photo: Solver Abhilasha Purwar pitches her solution Blue Sky Analytics to the judges in Solve's Healthy Cities Challenge. (Joe Jenkins / MIT Solve)
Back
to Top