Since the first Global Challenges launched in 2016, MIT Solve has connected innovative tech entrepreneurs with support, funding, resources—and each other.
Solve's community partnerships are formed among Solver teams and with Solve Members across Challenge topics, cohorts, and geographies, allowing teams to share resources, increase impact, and more. These partnerships have committed more than $7.5 million in funding to scale work in more than 50 countries and have expanded our understanding of what Solver teams can achieve.
Today, Solver teams enter a uniquely global marketplace for social impact—and join a network of fellow changemakers who share a drive for entrepreneurship, innovation, and collaboration. Through the Solve community, teams can connect to enhance their work and discover new ways of impacting the lives of millions of people around the world.
Want to get involved? Find out how you can apply to become a Solver or join Solve as a Member, and check out some of our most successful Partnerships below.
---
Solver-Member Partnership: Teaching Kids to Code For Their Careers
Solver Code Nation offers tuition-free computer programming classes to underserved high schoolers in tech hubs—a mission that aligned perfectly with Solve Member Strada Education Network's mission to invest in pathways between education and employment.
When Strada sought recipients for $8 million in grants, MIT Solve connected the network to the right team—resulting in a women-led partnership with a $1.5 million grant to support Code Nation's groundbreaking work.
Read more about their partnership.
---
Solver-Solver Partnership: Fueling the Potential of Human Trafficking Survivors
Solver teams AnnieCannons and Copia both use technology to support and empower their recipients—particularly women—and their partnership became a quick study in success.

After connecting through MIT Solve, Copia, which enables businesses to redistribute high-quality extra food to people in need, began delivering meals to students of AnnieCannons' coding bootcamp, all of whom are survivors of human trafficking. Their partnership enables both teams to carry out their missions—and to help coders stay focused on their career development and their future.
Read more about their partnership.
---
Solve Community Partnership: Uniting the Arts, Science—and Yo-Yo Ma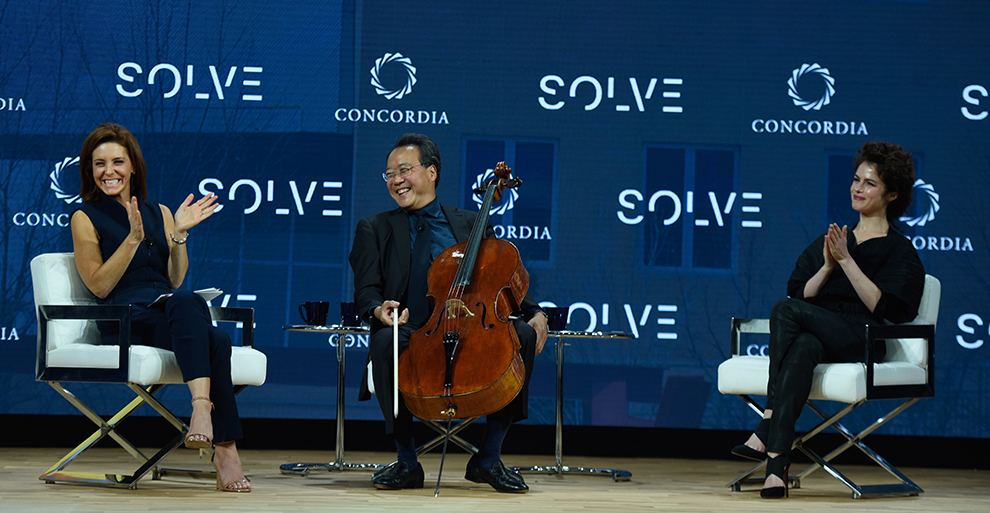 Solver teams seek solutions across disciplines—and their work intersects with community members in unique ways. Acclaimed cellist Yo-Yo Ma recently mentored three Solver teams to help them better leverage artistic tools that address Global Challenges.

With his support, Erase All Kittens and Girls Who Build now both connect young girls with inroads to STEM fields through creative avenues like designing and coding games, learning music technology, and exploring wearable tech. MemoryWell helps individuals with cognitive impairments and their families to explore storytelling as a way to reduce stress and enhance brain fitness.
Back
to Top